British Hydraulics has a team of 30. In addition to a hands-on owner, our general manager, division managers, technicians, skilled trades, service consultants and support staff are the best in the industry.
We know that your business success relies on your reputation for highest quality, competitive pricing, efficient processes and friendly, fast and satisfying customer service… We roll the same way.

Our many years in business – previously in Coquitlam, and now in New Westminster, British Columbia, Canada – have taught us to take notice of what's important to you, our client. We've taken that knowledge to provide the very best all-around, one-stop hydraulic repair service that works for you.

We know that saving time and money, while maximizing productivity, is important to you… we get that.

And, we've designed our services accordingly. Where's the proof? Just ask those clients of ours that have been with us for 40 years!
• Quality

• Pricing

• Delivery

• Reliability

• Confidentiality
Your Hydraulic Components Specialists
The members of our crew are hydraulics components specialists. Specialists, because we innovate and confidently deliver a 'one-stop hydraulics repair' experience. And, that includes Hard Chrome Plating, Pump, Valve, Motor Service, as well as a full industrial machine shop.

Our new facilities at 60 Braid Street in New Westminster, BC is a 24,000 square foot building in a two-acre secured compound, which allows us to handle even the big jobs.

Our US truck is one of seven customer service vehicles in our fleet.

To ensure efficient service for our customers, we maintain a fleet of seven customer service vehicles. We're there when you need us!

You will be impressed with the custom solutions we come up with for you because with over 40 years experience, we know what's needed to complete the job properly, on time and on budget.
---
Our Team
Our Team Members have contributed immensely to our growth, success and reputation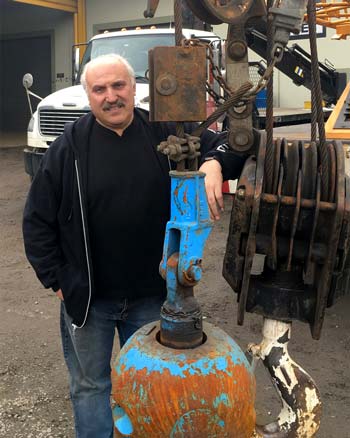 Hi, I'm Franco Balletta, owner / operator of British Hydraulics since the year 1999. I've been in the hydraulics industry for 40 years now. I started working with British Hydraulics in 1994 as a foreman, and I chose to become a shareholder in the company at that time, too. Five years later, I bought the company!

I believe it's important to be a 'hands on' owner/operator, so I am very involved in the day-to-day running of the business.

We insist on maintaining a connection with all our clients, to ensure they are getting what they need from our services. Your success is our success.
---
We Specalize In the repair, rebuild and remanufacture of the hydraulic component systems for: